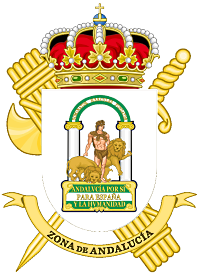 Popular Destinations eGuide
Andalucía
Andalusia's hinterland is the hottest area of Europe in the most southern region of Spain, with the historic and cultural cities like Ronda, Málaga, Jerez, Cádiz, Córdoba, Granada and Seville averaging above 36 °C (97 °F) in summer high temperatures. Late evening temperatures can sometimes stay around 35 °C (95 °F) until close to midnight, with daytime highs of over 40 °C (104 °F) common. Seville also has the highest average annual temperature in mainland Spain and mainland Europe (19.2 °C).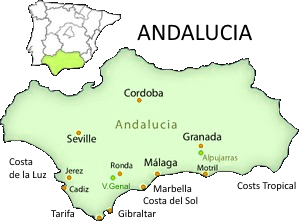 The southern Spanish region of Andalusia is famous for its fascinating history and infectiously exuberant lifestyle. Its towns are always lively, and you'll love exploring its scenic coasts and picturesque whitewashed villages. And the main cities are easy to reach from central Spain and other regions thanks to the high-speed train, or AVE.

For nearly eight centuries, Andalusia was under Islamic rule, leading to the golden age of al-Ándalus, a period of intellectual development now known as the Andalusian legacy. The impressive cultural heritage of that time has left some of the world's most beautiful and significant buildings, such as the Historic City of Ronda, the Great Mosque of Cordoba, the Giralda in Seville and the Alhambra in Granada, which are all well worth a visit.
Ref:
Spain Info - Andalucia...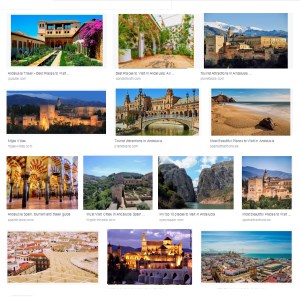 Atlantic Ocean and the Mediterranean Sea
Axis between Europe and Africa and meeting point of the Atlantic Ocean and the Mediterranean Sea, this region has been coveted by many different cultures throughout history and prehistory.
The region of Andalusia has a surface area of 87,268 km² and represents 17.3% of Spain. It is, on its own, larger than countries like Belgium, Holland, Denmark, Austria or Switzerland.
The diversity of landscapes and geographical terrain gives rise to an array of environments that go from the heat of the Guadalquivir River valley through to luxuriant mid-mountain areas, volcanic landscapes such as the Tabernas desert, and the snow-capped peaks of Sierra Nevada.
The Guadalquivir is Andalusia's most important river and brings life to many areas in its journey across the region.
In barely forty kilometers you can go from Alpine mountain landscapes to tropical areas on the shores of the Mediterranean. The coast of Andalusia stretches for almost 900 kilometres and is home to a large number of cities, towns and beaches that are a delight to visit.
The whole ensemble represents a range of attractions for tourists that goes from impressive monuments in large towns to typical small villages, which have provided a constant source of inspiration for all kinds of artists.
Andalusia today is a modern region with well-developed infrastructure. It offers a warm welcome to visitors and, while conscious of the need to modernise and move forward with the times, it is also careful to take care of its roots and maintain its important cultural heritage and monuments, legacy of the region's ancestors.
Andalusia is the main holiday destination for Spanish nationals and one of the principal destinations for overseas tourists. Don't miss it. Andalusia loves you…
Ref:
Sport Management Andalusia, S.A.S....

Public Entity for Tourism and Sport Management in Andalusia, S.A.S....
---