Our Rural Houses
Casa Pilar
VIVIENDA TURISTICA - VTAR/MA/00575
CASA PILAR - Calle Pilar 2 - ALPANDEIRE 29400 - MALAGA
Large Casa Rural in Alpandeire - Sleeps 12
Ideal for famalies or large groups looking for accommodation in a comefortable spacious self catering house, and garden with pool.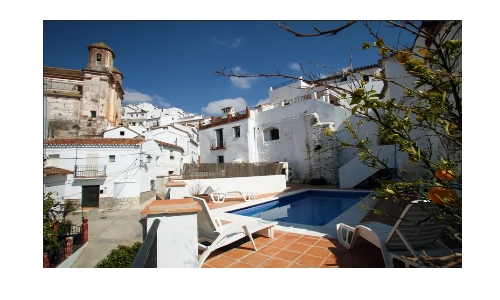 ACCOMMODATION
The House Sleeps 12 Persons in 5 Bedrooms
GROUND FLOOR
Room#1 : One Double Bed and One Single Bed,
Room#2 : One Double Bed,
Room#3 : Three Single Beds.
Salon with wood burning stove.
Bathroom.
Kitchen/Dining Room/Bathroom.
TOP FLOOR
Room#4 : Two Single Beds,
Room#5 : One Double Bed.
OUTDOORS:
Swimming Pool and Garden, 2 Pations, 1 with BBQ, This property was originally a Posada (Village Inn) and still retains many of the original features such as the underground stables, tunnel access for the mules, water troughs and two internal water wells. Now reformed with all creature comeforts, fully fitted kitchen, oil-fired central heating and two wood burning stoves.
There is more than ample outside space with terraces and patios, and interesting basement catacombs. Swimming pool and terraced garden.
The house enjoys views of the famous Catherderal, and accross the valley towards Grazelems with its extradanory sun sets
Alpandeire is the birthplace of Fray. Leopoldo. Born on 24 June 1866. On February 9th 1956, in Granada, the cherished monk died at the age of 92. His good work has attracted a number of miracles and his tomb, located in the Capuchin convent in Granada, is visited by believers in search of divine help. In fact, Granada has now officially become the city of Fray Leopoldo.
Alpandeire is less than a 14 min drive to the Historic city of Ronda, and is a great hub for visiting the Costa Del Sol, Granada, Cadiz, Sevilla. The Camino del Rey is just under an hours drive.
Kitchen
Oven, 5 ring gas hob, dishwasher, washing machine, fidge/freezer, 2 under counter fridges, microwave, toaster and kitchen equipment
Outside BBQ, paella dish. Patio tables and chairs, sun loungers
---